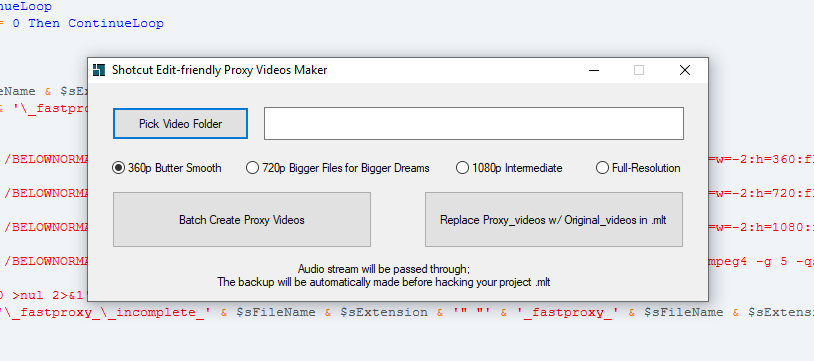 A simple tool (for Windows/Linux Wine) batch creates "smooth proxy" videos for Shotcut lag-free editing, and "1-Click" to restore the original quality video source when you are ready to "export".
For those who don't know what the proxy-editing means: If your video is too big or your computer is too old then your Shotcut GUI will be choppy and laggy. So we use a same-content but low-resolution videos (called proxy) to do the same editing job. Once finished the editing, we hack the project .mlt file to restore the original high-quality videos for the final "export".
Usage:
---
Step 1, Pick "source video path", and click "Batch Create Proxy Videos".
If you want to rule out some of the videos in the directory, you get a chance to edit the .bat batch file.
The batch file will convert your videos into edit-friendly proxies, output into a sub-directory named "_fastproxy_"
The proxy generating is very fast, takes only 10%-50% of actual video length depends on the source video format and your CPU..
---
Step 2, Do the video editing with the "_fastproxy_xxxxx" files inside the _fastproxy_ subfolder
You should manually pick a "video mode" to start your project. Otherwise the "Automatic" mode will start your project with the proxy_video's low resolutions.
The preview quality is lower, but the Shotcut editor GUI will be super smooth that may greatly improve your work performance.
You can mixed edit using both "proxy" and "original" videos, but you should not move/rename/delete the proxy_videos and the original_videos, otherwise this program may fail to restore the original quality videos later.
---
Step 3, After you finished the editing, save and close Shotcut. Open this program again and click the "Replace Proxy to Original in .mlt" button, pick your project .mlt file.
You need to make sure the proxy-videos and the original-videos are where they were.
Don't panic, a backup named xxx-backup-001.mlt will be created, just in case you want to go back to proxy-editing again.
---
Step 4, Open the modified .mlt in Shotcut and export your high-quality final video. Enjoy!
---
Options:
360p is for old computers with 1080p monitors, or you are going to add lots of filters on video clips and still want the GUI to be super smooth.
720p is for more powerful computers, or you want to see some details during editing(eg. zooming in)
1080p is slower, bigger but much finer than 720p. You can use it as a proxy, or you can use it as an "intermediate" to edit/export your 1080p video directly (without using button 2)
Full-Resolution is similar to the Shotcut build-in "edit-friendly conversion", but the file it generates is much smaller (high quality lossy, qscale=3).
---
Changelog:
1.01 – 1.02:
Change the output proxy_videos into a sub-directory named "_fastproxy_" ;
Allowing mixed editing with proxy_videos and original_videos;
Fixed some dialog bugs.
1.02 – 1.03 final
Add support for .mov, .m4v, .mkv files;
Add file number and modify number display so user can spot if something is wrong;
Include ffmpeg so this tool is now fully portable;
Change the encoder profile from superfast to ultrafast
Cosmetic changes
Now this project is marked as final.
1.03 – 1.041 final plus
Change the proxy audio codec to ac3, as reports saying its better for smooth editing;
Add a wrapper around ffmpeg to handle the incomplete output proxy files, meaning: now you can close/kill/shutdown the conversion process without any trouble. You can continue the conversion anytime later (simply run it again). The existing converted proxy_files will be skipped, the unfinished/interrupted/new files will be converted again.
1.041 Improve the proxy video quality. (The quality was super low with no deblock so the proxy video was full of tiny blocks losing all the details, unable to preview the result of colour grading and adjustments properly). The proxy video is now 2 times larger but it is much clearer and useful.
1.042 change the included ffmpeg from nightly version to stable version
1.043 now ffmpeg runs in low priority mode
1.043 fixed a file-name-lock issue when generating proxy directly on slow sd cards
1.044 fixed the "width not divisible by 2" conversion issue.
1.041 – 1.10 final plus max
adding the 360p/720p options;
adding the lossless audio option;
remember the last used path;
V1.101 cosmetic changes
V1.102 adding notification sounds when conversion finishes
1.10 – 2.020 Happy New Year
Major proxy codec changes, using "MPEG-4 Part 2" instead of "H264 i-frame-only";
Now proxy_videos are less than 1/3 of file size comparing to earlier versions, faster and smoother.
add 1080p intermediate and full-resolution format options
Pass-through audio streams, remove the "lossless audio" option.
Because of the codec changing, now add .avi support.
2.021 add video formats support to:".avi .ts .trp .m2t .m2ts .mts .mpg .mpeg .m1v .m2v .mp4 .m4v .mov .mkv .vob .3gp .wmv .asf"
2.021 increase the quality for 360p/720p a little bit.
2.022 remember user's selection before exit.
---
Credits: FFmpeg multimedia format and codec libraries under the GPL v3 License